In the rush to make a page relevant to its target keyword, many businesses overlook the need to stand out from the screed of similar sites trying to do the same thing. Your listing might be near the top in a search for your most relevant keyword, but if it doesn't catch the eye, then all the effort you took to get there might as well go to waste.
To make the most of the money you have put into web design, AdWords, and search engine optimization (SEO), there are a number of things that you can do to make your listings stand out from the crowd and elicit more clicks. Here are five steps to consider.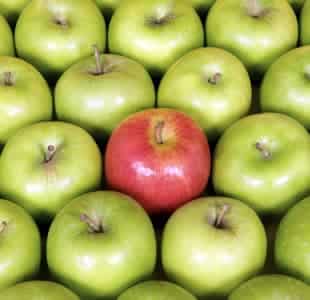 1. Better writing
When a site comes up in search, what you see is a headline and approximately 150 characters of text describing the web page. The words displayed here are crucial.
"The best way to attract attention is probably to concentrate on your writing," suggests Nick Sibbing, owner of Artful Web Print and Design. "People will tend to lean towards the top listing – it gets more clicks – but you can punch above your weight if you use better words."
Search engines extract these words directly from the meta-data in the HTML code that makes up each page of your site. The headline is taken from the title tags in the HTML, and the 'blurb' is taken from the meta-description, both of which can be filled with information about the page to make your listing appear more relevant to the searcher's interests.
"The meta-description tag, according to Google, has no impact on how you place or where you place, but they do definitely pick out in bold the relevant terms, so they are paying some attention to it," notes Sibbing. "This will help you stand out. It's the most important 155 characters of marketing spiel that you'll write."
"As far as getting attention drawn to the listing, the meta-description serves pretty much as sales copy," says Matthew Forzan, director of SEO at E-Web Marketing.
The first step to making this writing stand out is to ensure it makes good use of the keyword that's being targeted, as this is most likely to convince the search user of the page's relevance.
"Another good way is to provide product and service information in the description," continues Forza. "When users are searching for things, they want to know what's in it for them."
For sites that were designed using WordPress, editing meta-descriptions is relatively simple, although you will need to install a plug-in (such as All In One SEO) in order to do so. For custom-built sites, it's best to get your web designer to make any changes to each page's meta-description or title. For them, this will be little more than a five-minute cut-and-paste job.
2. Do something different
One downside of trying to frame your site as the most relevant for a particular search query is that your listing may end up looking very similar to those of your competitors. This is why it's a good idea to keep an eye on how their listings appear in search and make sure yours promises something different and valuable.
If possible, include a unique selling point inside the page's meta-description, as this will help your business stand out from the rest. A message as simple as 'free shipping', 'free quote', or 'ask an expert' can go a long way.
"A lot of what I see in my day-to-day are very generic descriptions of what that page is actually about; not what the business has to offer, or what the service will do for that person," says Forzan. "It really depends on the industry. Some will be untapped, and a lot easier to gain more traffic from, just by a simple meta-description change, whereas other ones are very clever and catchy – they're using traditional copywriting techniques online to get that capture. The key is to try and stand out and be a bit different."
3. Ad extensions
For listings that you've bought in AdWords, it's worth investigating the possibilities that Google's Ad Extensions offer. Ad Extensions are a series of features within AdWords that, when filled out, let you display additional information about your business in paid search results. They don't cost more to use but do increase the likelihood of a click, which will cost you if you've opted for the pay-per-click system.
Extensions range from simple things like location and phone details to more comprehensive features like Google Shopping Extensions, which allows you to list images of and links to individual products along with prices.
Another extension worth investigating is something Google refers to as Ad Sitelinks. This function enables you to display links to the different sections on your site below the single link that appears in a regular listing. It's important to note that in order for Ad Sitelinks to appear in an AdWords listing, it needs to appear as one of the top three paid listings on a search engine results page.
To add Sitelinks to an AdWords (Now called Google Ads) listing, log in to your account and click the 'Campaigns' tab. From here, choose 'Ad extensions', then click 'View' and 'Sitelinks Extensions', and finally click 'New extension'. Make sure that the Sitelinks you choose to include in each listing are highly relevant to what you're trying to advertise. Links to sections such as your contact page, or to different product category pages are a good idea.
Sitelinks also appear in organic, un-paid search results, but it isn't as straightforward to engineer them as part of a search engine optimization strategy.
"There's no way to force Sitelinks [in organic search], but so long as a CMS is relatively search-engine-friendly then they will generally appear," says Brendan Tully, principal consultant at The Search Engine Shop. "In some cases where the site is not search-friendly — like where the entire site is built in Flash — then search engine algorithms may not be able to crawl all pages, so Sitelinks will have no chance of appearing."
As with AdWords, Sitelinks usually only accompany the top search results displayed.
"Google has made a recent change so that Sitelinks usually always show for a search on the business name or something that matches very closely," says Tully. "Apart from that usually only the top listing will get the Sitelinks."
In order to encourage the possibility of Sitelinks in organic results, make sure that you or your web designer has submitted an XML sitemap to Google to make your site simple to index. It's also important that your site is logically arranged into separate sections for each of the types of product or service offered, and that the meta-descriptions and title tags for each section clearly match the content displayed there.
For more information about meta-descriptions, title tags, and XML sitemaps read How to get SEO right the first time.
4. Google Places
One of the most effective search tools available to businesses is Google Places. This is a service in which a business can 'claim' its geographic location as a listing on Google Maps. Claiming a Places listing can make your business easier for nearby customers to find through searches on their mobile phones. It can also result in the addition of a map to organic and paid search listings, pinpointing your business's location for the search user.
"When people search for local businesses, that might trigger the Google Places listing in the search results. With Places turned on, it will show your location details as well as the standard headline [in a search listing]," says The Search Engine Shop's Tully.
While the simple act of claiming your business's location in Google Places can work wonders for your search listing, filling it with information will make it more likely to stand out against competitor's listings.
A particularly useful kind of content that can be entered into Places is customer reviews; there are few things that Google prizes more highly than evidence of an independent 'thumbs up from a happy customer.
Tully explains that listings with five or more positive reviews tend to receive more favorable positions in search results.
"Once you have five or more reviews, Google will show a star indicator next to your business listing," he says.
"Often a lot of businesses have no reviews, so if you're in there with eight or nine other businesses, and you're the only one with five reviews and with five stars next to your listing, it's more than likely going to attract a click over your competitors."
5. Social media and Google+
Although Google+ – Google's newly minted social media platform – isn't an official extension, it can almost be considered as one for small business search purposes.
Google has begun to personalize searches by using data pulled from the searcher's Google+ account. If a person searches for your type of business in Google, and one of their contacts on Google+ has linked to your site using the social media platform, then this connection will be highlighted in the searcher's results as a kind of 'social' recommendation.
"Whatever you're searching for, Google's going to mix results from everyone you're connected to in your social circles and Google+ in with what the Google algorithm will show you," says E-Web Marketing's Forza.
Although it's likely Google's emphasis is on Google+, it's also creating recommendations with data pulled from other social media services, like Twitter.
"In some cases, we've seen [recommendations for] people who are connected through Gmail. Sites that people have shared with people they're connected to through Gmail are actually ranking higher, and showing with a social recommendation," says Tully.
Given that it has yet to roll out in Australia, and that only a few of your customers are likely to be using Twitter or Google+ to share any content, let alone content about your business, this personalized search function is currently a relatively minor consideration. Regardless, it's clear that Google intends for it to eventually play a bigger role in search results, so it's worth investigating.
"Having a Google+ page for your business and using it, promoting it, and sharing content on it is a good start," says Tully. "It works very similarly to a Facebook page. Using it in a similar fashion could potentially give you more visibility in the search results.
"Hosting your email with Google Apps might help as well." he continues. "If there is a Gmail account somehow tied to your Google Places listing or Google Plus profile, then, potentially, people who you've emailed or connected with through Google Apps or Gmail will see things you've shared rank higher."