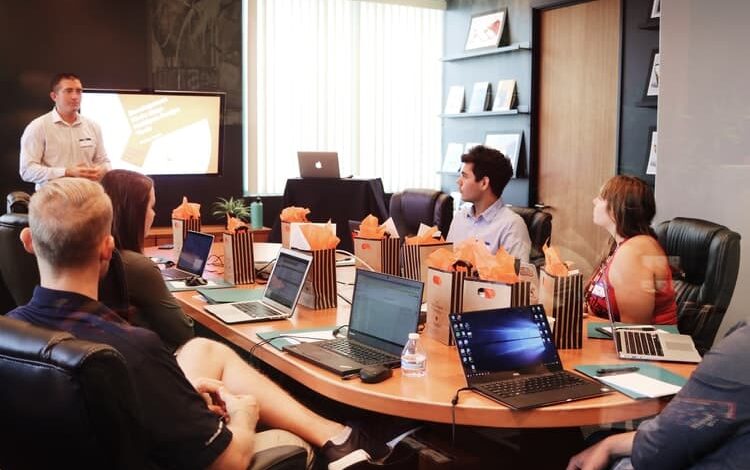 If it's time to get more serious about your small business, it could be time to start thinking about setting up your own office. Here's how…
The dream of every small business owner is to achieve growth. Indeed, there's nothing more satisfying than the feeling that comes with watching your hard work pay off, and your business start to expand.
But what happens when your business gets too big to run from home? It's hard to look and sound professional when your business is all taking place from the spare room in your house. And when business really starts to take off and you're running around trying to keep your clients and customers happy, who's there to answer the phone?
You also need to ask yourself "is it okay to have prospective clients pop round to the house for a cup of tea?" or would you rather meet them around a professional-level board room table?
However, there are solutions available to small businesses that can help you to take the big step into setting up an office for yourself – and those solutions can take on a variety of forms.
Buying office space or commercial premises can be extremely costly – and it's a huge gamble to take on a small business, especially when things are just starting to get off the ground.
So we spoke to the experts who deliver other, far more cost-effective solutions, such as serviced and virtual offices.
At your service
A popular option for many small business owners is the 'serviced office', which gives you the space and equipment you need without the huge up-front costs associated with setting up the space on your own.
"Serviced offices provide start-ups and small business with a complete professional ecosystem – this includes the obvious 'bricks and mortar office environment and business infrastructure, but its the intangibles – such as the human dynamic within a space, and the interactions with other resident businesses – that become critical to a client's day-to-day experience," says Naomi Tosic, Business manager of The Office Space Group, located in Sydney's Surry Hills. "The flexible nature of serviced offices also allows businesses to minimize their risk and allow for growth and expansion without any upfront capital expenditure."
Trevor Vandersluys, Operations Manager of Asian Pacific Serviced Offices, agrees.
"A serviced office is a perfect solution for a start-up or small business," Trevor says. "It provides companies with a flexible, low cost and most importantly stress-free opportunity to set their office up without having to worry about long term commitments or the many overheads that come with commercial office space."
"Signing up with the right serviced office provider for your business needs also provides you with the peace of mind that you have the ongoing support you need to turn your business into a success," he continues.
What about virtual?
Another popular option is to 'go virtual', and sign up for a virtual office service. There are some fundamental differences between the two options, so it's important to figure out which option will be right for you. So… what are the differences?
"Essentially, serviced offices are physical entities, whilst virtual offices provide the appearance of a physical office space as they offer their clients a mailing address and a business landline with associated call answering and mail management services," Naomi explains. "It is a really interesting concept as a virtual office could be considered a 'pretend office' where, for a fraction of the cost or a physical office space, virtual clients can appear to hold a professional office."
"The biggest difference between a serviced and virtual office is that a virtual office does not provide you with any physical office space," Trevor adds. "This enables virtual office clients to portray a professional business address without the overheads of an actual office space, giving them credibility and prestige."
"Besides this, many of the services are the same such as telephone answering, administrative support, reception services, and mailing address," he continues. "It is important to note that virtual office clients are still able to access a temporary office, business lounges or make use of on-site facilities such as boardrooms at reduced rates."
It is by no means a one-size-fits-all approach, however – and by choosing a virtual office over a serviced office, you're a bit more likely to find a package that suits your needs.
"We offer a customizable suite of virtual office plans at The Office Space, all of which allow us to make our virtual clients look sharp without compromising their mobility or flexibility," Naomi says. "We act as their reception team and PA for incoming calls and support services."
"Our Virtual Office packages include all the vital elements of a professional business frontline: a business address, mail management, dedicated phone number, personalized call services, and access to meeting space or office suites within our premises as required," she adds.
What services do you get?
We asked both Trevor and Naomi to talk us through the major selling points of their respective company's office features, to get a sense of what a small business owner can expect from a serviced office.
"The main selling point of the 'services provided can be broken into two categories in regards to Asian Pacific Serviced Offices," Trevor says. "Firstly, our friendly and supportive on-site team wants to be seen as an extension of our client's business – we are able to provide all the reception and administrative support a client would receive from an in-house receptionist but at a fraction of the cost."
"Secondly, all our properties have a variety of professional and lifestyle services and facilities on-site to give our clients the experience of a 'one-stop shop'," he adds. "From boardroom and conference facilities through to cafes, food courts, gym, car parking and more. All our properties provide everything our clients need under one roof."
"Nothing saps creativity like taking out the rubbish or paying the energy bill," Naomi says. "Unlike other share workplace environments where you're left to your own devices once you settle in, getting bogged down by the day-to-day running/administration of a business, both our locations offer exceptional support."
"Our residents enjoy a broad range of business support via our highly skilled reception team which allow them to focus on the planning and implementation of the core of their business instead of being tied down to distracting matters," she adds. "These services include: inbound call management, mail, and courier management, meeting bookings and catering for internal functions, business administration, such as diary management, research, and data entry, boardroom presentation preparation, plus personal assistant services, such as restaurant bookings and travel arrangements."
More than just a desk
Another consideration to take into account when you're choosing the right sort of office set-up is the other amenities that the company can offer. After all, it's about looking as professional as possible, and that means ensuring that there is room for you to host visitors and clients, as well as handle meetings and even corporate presentations.
"At The Office Space, we offer an array of meeting rooms that range from professional, intimate, ambient, and impressive," Naomi says. "We can accommodate a private room for teleconferencing, through to a 14-person boardroom, or 56 seat theatrette. All meeting spaces are available for use by our internal residents, virtual clients and are also available external clients, bookable for the hour through to full days."
"Beyond a beautifully appointed space, The Office Space team will ensure that every aspect of meetings or presentations is seamless and professional, from personalized guest welcomes in our reception area to serving refreshments, offering full catering provisions, and preparing presentation materials and AV support professionals can focus on their clients and their message," Naomi continues. "In addition, our receptionists are also able to act as Personal Assistants for our visiting virtual and full-time residents when and as they need. Business support can range from diary management to research and administrative tasks. Time is charged in 5-minute blocks to keep costs low. "
Speaking of costs…
"Cost is critical to a business in the start-up phase and then, as a business progresses, other factors such as value and quality become increasingly important.," Naomi says. "Our virtual packages start at $99 + GST per month and our physical spaces are positioned at around $250 + GST per person per week."
"Our physical offices can be leased on a daily, weekly, monthly, or yearly basis to suit any stage or requirements of a business," she adds. "Taking on a physical office is an investment in the future not only your business but in the quality of your work life. We recognize that our resident businesses often spend more time in our spaces than at home so we invest in our fit-outs."
Those fit-outs include key design furniture pieces by Vitra, Eames, and Herman Miller, as well as celebrated contemporary artwork, such as pieces by leading Australian artists including Ben Quilty, Del Kathryn Barton, and Brett Whiteley.
Wrapping up
The serviced or virtual office option is a good one for small businesses, and for start-ups, who are looking for a professional environment to help grow their business.
And it's a much better look than running your business from your kitchen table – because looking the part is half the battle when it comes to building up your business, or when you're taking on bigger clients.
For more information on serviced offices, you can head to apbusinesscentres.com.au or theofficespace.com.au.
Faster, Better Searching
Searching for office space can be every bit as tedious as trying to find a new home – however, while researching this story, we came across a new player in the market that has spotted a golden opportunity to make finding the right space easier than ever before.
Called JAGONAL, it's a dedicated search portal designed specifically for finding office space, in whatever format you desire. Whether it's serviced offices, virtual, shared workspaces – and even if you are looking to buy the space, not rent it – the JAGONAL allows you to search through properties near and far.
Best of all, it's not confined to simple searches such as available floor space – you can search by more than 50 popular office features, such as access to childcare, a gym, proximity to transport, bike racks, plus a whole lot more.
"JAGONAL has been built from the ground up with the understanding that finding an office is much more than a decision about price, size, and location. It's about promoting the core essentials that attract and retain talent," the company says.
JAGONAL currently lists more than 65% of Australia's vacant office space, and the Sydney-based team is working on expanding its offering to cover Singapore and other Asian markets.
You can give it a road test at www.jagonal.com.au.