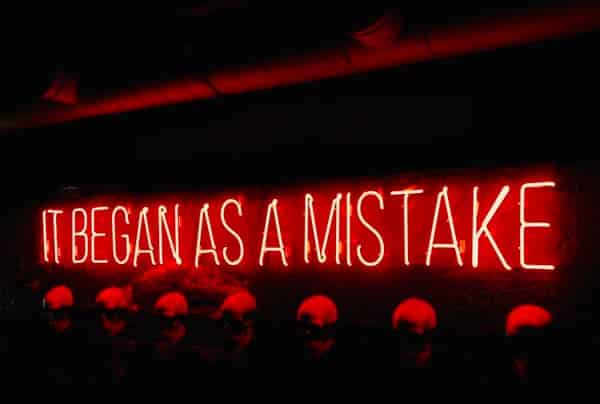 Regardless of how rapidly trends and best practices change, businesses continue to make the same basic mistakes when it comes to web design. These tend to arise when business owners sacrifice functionality for needless showiness or fashionability. In truth, visitors don't mind if your borders aren't rounded or you don't have animated menus, provided they can get to what they're looking for quickly and easily.
1. Don't think it's finished
It's a mistake to think a website doesn't need any more work once it has launched. This would be like settling on a single marketing strategy to last the life of the business. Instead, it should be treated as a constantly changing project.
"These days, your site is in perpetual beta. It is forever evolving in line with audience needs and technology," says Denise Shrivell of digital consultancy MediaScope.
"That's a challenge for businesses these days who are developing a web-based business. Ten years ago, when you developed a website, you could pretty well sit on it until a redesign or relaunch. Now the challenge is determining that you need an ongoing budget to keep up with the ongoing demands of your audience."
Visitors will expect different things of your website's functionality and navigation in two years than they do today. This is why it's crucial to continually test its effectiveness and to allocate a portion of your marketing budget to its upkeep.
2. What's the point?
It's important for businesses to ask themselves what they're trying to achieve by creating a web presence before they begin planning it. A business might not need an overly complicated website, but a clear navigation path for the visitor to take is essential.
"One of the biggest mistakes we see is when small businesses don't think about the action that they want visitors to their site to take," says Lucy Perry, art director at web design firm Pure Graphics. "That's the first question we ask: What action do you want your visitors to take? Most small businesses just do an online brochure. They showcase their business on the web, and that's about it."
There's nothing inherently wrong with the 'online brochure' approach to a website, provided that it achieves the business's primary objective. If getting a visitor to pick up the phone is the goal, then don't bury the number three clicks away from the home page.
"If the action is 'give us a call', make the phone number nice and big on every page," says Perry.
3. No secondary goal
Often, prospective customers need more than one point of contact with your company's brand before they decide to follow through with a purchase or a phone call.
"The next best thing is to keep in touch with them," says Perry. If your objective is to generate phone leads, it might be worthwhile using a button that lets visitors 'like' your Facebook page without having to visit it. "Then, you've got them to stay in touch with on a regular basis. Ongoing contact: that's the next best thing to making a phone call."
4. Where's the newsletter?
Sometimes a 'like' isn't enough. Even if the email isn't currently part of your marketing strategy, it's wise to use your online presence to begin building a database of email addresses early on.
"Capturing an opt-in database allows you to build an audience," says Shrivel. Sending a regular content-based newsletter to an established database of people that have expressed interest in your business is an excellent way to generate traffic. Once established, a newsletter can even earn the business money through advertising.
5. Keep it clean
The more information a visitor is presented with, the more trouble they'll have found what they're looking for. The age-old maxim 'less is more is relevant to web design, and this holds especially true of a site's homepage. Any content that greets visitors when they land there should be absolutely essential to the purpose of the website. If there's any risk it could confuse them or obstruct their navigation, it needs its own landing page.
6. All show, no go
If your marketing budget allows you to invest in something more elaborate than a straightforward WordPress template, be careful to not let any embellishments obscure the site's purpose.
"Use Flash, but with discretion," says Rishad Sukhia, director of web design company Brightlabs. Over-use of software like Flash can act as a deterrent to tentative visitors, posing a barrier between them and the content they're searching for. "Interactive Flash elements can be a great asset to your site, and they can add that dynamic nature, but if done incorrectly, they'll impact negatively on your SEO, reduce your page loading speed and consequently your page rankings," says Sukhia.
7. Is it mobile-ready?
It's essential that the site is readable from mobile devices, if not equipped with a template tailored specifically for them.
"Don't think that people won't look at your website on a phone or an iPad," says Brightlabs's Sukhia. "Think of the future; it's already here, in a way. Smartphones have made serious headway into the market, so chances are your website is being looked at on someone's mobile platform. Either having a separate template that displays differently on a mobile device or making sure that your important information is easily accessible via mobile, are both essential."
8. Plan for ads
If you're planning to sell advertising on your website, it's wise to have this factored into any initial development plans.
"One of the biggest mistakes I see in startup websites who are planning on generating revenue through advertising is that they design their site before they have developed their advertising strategy," says MediaScope's Shrivel. "You should plan your business's commercial strategy and then design the site accordingly – I often see it happen the other way around when it's too late and too expensive to make amendments."
9. No integrated blog
Blogging is one of the oldest forms of social media, and still holds a lot of value for businesses trying to generate interest in their business online.
If you want to take full advantage of the traffic-generating potential of a successful business blog, it needs to be planned accordingly and updated regularly
"A blog is a really great traffic tool. It pulls traffic into the rest of the site, but to do so, it has to be integrated," says Pure Graphics's Perry.
10. Inconsistent branding
It's easy to forget that a website is just another point of contact between your company and potential customers.
"It's becoming more and more apparent that the brand is the central focus, and online marketing is now about developing different touchpoints for your audience to reach that brand," says MediaScope's Shrivel.
Accordingly, it's important that it doesn't differ from the tone or message used elsewhere in a marketing strategy. An effective web presence has to give the same impression as a Facebook page, a print ad, or a business card. Failing to do maintain this consistency will adversely affect your business's credibility and impact conversions.